URtainment
Lirik Lagu 'Wild Flower', Kolaborasi RM BTS dengan Cho Youjeen
Eronika Dwi,
Jumat, 2 Desember 2022 15.01 | Waktu baca 3 menit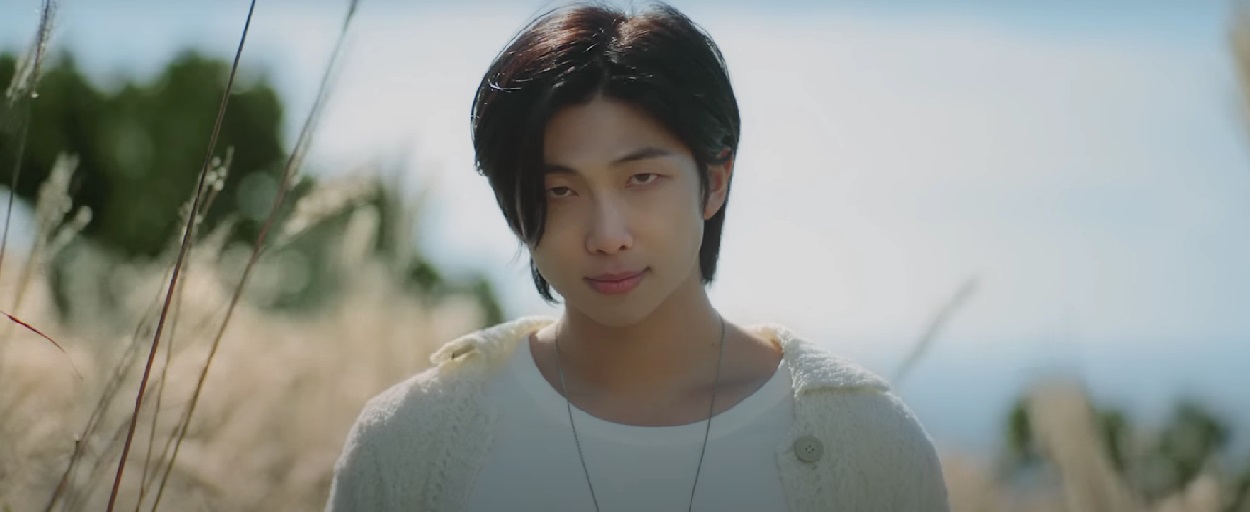 Image: RM BTS di MV 'Wild Flower'.(YouTube HYBE LABELS)
Jakarta - RM BTS resmi merilis albumnya solonya bertajuk 'Indigo' sekaligus music video (MV) lagu 'Wild Flower', Jumat (2/12/2022).
'Wild Flower' merupakan single utama dari album 'Indigo'. Lagu 'Wild Flower' merupakan kolaborasi RM dengan vokalis band rock Cherry Filter, Cho Youjeen.
'Wild Flower' menyoroti suara rock khas ciptaan RM yang energik dan diselaraskan dengan vokal berapi-api dari Cho Youjeen.
Album 'Indigo' sendiri berisi total 10 track lagu dengan delapan lagu di antaranya berkolaborasi dengan musisi papan atas termasuk Erykah Badu, Kim Sawol, Paul Blanco, Mahalia, Jo Yujin, Park Jiyun, Colde, Tablo, dan Anderson .Paak.
Tanpa berlama-lama berikut lirik lagu 'Wild Flower' BTS feat Cho Youjeen.
Flower field, that's where I'm at
Open land, that's where I'm at
No name, that's what I have
No shame, I'm on my grave
Du bari ttange dachi aneul ttae
dangsinui maeumi dangsineul neombol ttae
kkumi nareul jibeosamkil ttae
naega naega anil ttae
geu modeun ttae
bulkkocheul naneun donggyeonghaesseonne
geujeo hwaryeohage jigo sipeonne
sijagui jeonbuteo na sangsanghaesseotji
kkeuten useumyeo baksu chyeo jul su itgil
na sowonhaesseonne
mideotdeon ge da meoreojideon ttae
i modeun myeongyega ijen meongega dwaesseul ttae
i yoksimeul jebal geodwogasoseo
eotteon iri isseodo
o nareul naro hage hasoseo
Oh every day and every night
Persistin' pain and criminal mind
nae simjangsorie jam mot deuldeon bam
changbakke geollin cheongseungmajeun choseungdal
I do wish me a lovely night
nae bunsuboda bidaehaejin life
jeogi naraoreuneun pungseoneul aesseo jwigo
ttajyeo mureo daeche jigeum neon eodie
Where you go, where's your soul
Yo where's your dream?
jeo haneure heuteojillae
Light a flower, flowerwork
Flower flowerwork
jeo haneure nunbusige
Light a flower, flowerwork
Flower flowerwork
geu eodikkajiga nae majimagilkka
jeonbu jinjeori na, hana yeolkkaji da
i jigeutjigeuthan gamyeoneun eonje beotgyeojilkka
Yeah me no hero, me no villain
amugeotdo anin na
gonghoejeoneun banbokdwae gieokdeureun nanpokae
nan nuwo deulpan soge siseoneul deonjyeo haneul wie
mwol wonhaesseotdeon geonji ije gieogi an na
eodeotda mideotdeon modeun haengbogeun gyeou challa
Yeah I been goin', no matter what's in front
geuge mwoga dwaetgeon
saebyeogui otjarageul butjapgo mwonga tohaenaedeon gieok
moksoriman keun jadeurui sahoe
nan yeojeonhi chimmugeul malhae
igeon bangbaek, wansukan dotdanbae
modeun ohae pyeongyeondeure dake
bangapji ana neoui henggarae
nae du bari yeogi ttang wie
ireumdo eomneun kkotdeulgwa hamkke
dasin byeore gal su eopseo I can't
balmiteuro I just go
mokjeok eomneun mokjeokjiro
seulpeun juldo moreugo
geurimjamajeo chinguro
I be gone
jeo haneure heuteojillae
Light a flower, flowerwork
Flower flowerwork
jeo haneure nunbusige
Light a flower, flowerwork
Flower flowerwork
mundeuk meomchwoboni challanhan maenbal
wollae nae geoseun amugeotdo eopseotji
And don't tell me like you gotta be someone
nan jeoldae geudeulcheoreom doel su eopseuni
(Light a flower)
geurae nae sijageun si
yeotaekkeot nal jikyeoon dan hanaui himgwa dream
(Light a flower)
taneun bulkkocheseo deulkkocheuro
sonyeoneseo yeongwoneuro
na i hwangnyanghan deure nameuri
a eonjenga na doedoragari
jeo haneure heuteojillae
Light a flower, flowerwork
Flower flowerwork
jeo haneure nunbusige
Light a flower, flowerwork
Flower flowerwork
Flower field, that's where I'm at
Open land, that's where I'm at
No name, that's what I have
No shame, I'm on my grave
du bari ttange dachi aneul ttae
dangsinui maeumi dangsineul neombol ttae
kkumi nareul jibeosamkil ttae
naega naega anin ttae
geu modeun ttae