URtainment
Miley Cyrus dan The Kid LAROI Rilis 'Without You' Versi Remix, Begini Liriknya!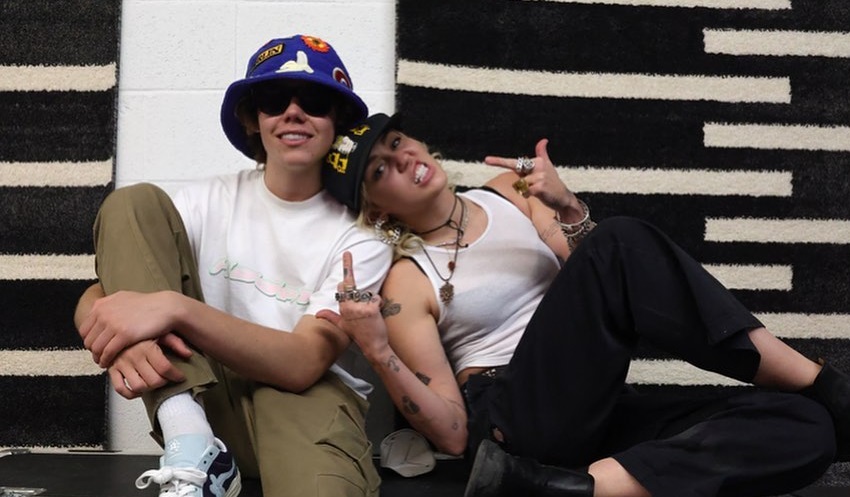 Image: The Kid LAROI dan Miley Cyrus. (Instagram @mileycyrus)
Jakarta - Miley Cyrus dan The Kid LAROI baru saja merilis single kolaborasi 'Without You' versi remix sekaligus music videonya (MV) pada hari ini, Jumat (30/4/2021).
Menceritakan mengenai perasaan cinta sekaligus benci, 'Without You' merupakan lagu hit The Kid LAROI yang telah rilis pada November 2020 lalu.
Kali ini, The Kid LAROI menggandeng Miley Cyrus untuk membawakan bersama versi remix lagu 'Without You'.
"'Without You' dengan @thekidlaroi sudah rilis sekarang. CINTA lagu ini sebanyak aku mencintai teman baruku!" cuit Miley Cyrus melalui Twitternya sembari mengunggah cuplikan MV 'Without You'.
Berikut liriknya!
'Without You' Miley Cyrus x The Kid LAROI
[Intro: The Kid LAROI]
Yeah, yeah, yeah
[Chorus: Miley Cyrus]
You cut out a piece of me, and now I bleed internally
Left here without you, without you
And it hurts for me to think about what life could possibly be like
Without you, without you
[Verse 1: The Kid LAROI]
I can't believe that you would up and leave me
Fuck all of your reasons (Woah, woah)
I lost my shit, you know I didn't mean it
Now I see it, you run and repeat it
And I can't take it back, so in the past is where we'll leave it, huh
[Pre-Chorus: Miley Cyrus]
So there I go, oh
Can't make a wife out of a ho, oh
I'll never find the words to say, I'm sorry
But I'm scared to be alone
[Chorus: The Kid LAROI]
You cut out a piece of me, and now I bleed internally
Left here without you (No, no, no), without you (Ooh-ooh, ooh)
And it hurts for me to think about what life could possibly be like
Without you (No, no, no), without you (No, no)
[Post-Chorus: The Kid LAROI with Miley Cyrus]
Oh-oh, woah, oh-oh, woah-oh
Oh, woah, oh-oh, woah
Without you, without you, ooh
Oh-oh, woah, oh-oh, woah-oh
Oh, woah, oh-oh, woah
Without you (Without, without, without), without you, ooh
[Verse 2: Miley Cyrus]
Feels like sleepin' with a ghost
I called you up to let you know
I really wish that we could've got this right
[Pre-Chorus: The Kid LAROI]
So here I go, oh
Can't make a wife out of a ho, oh (No)
I'll never find the words to say, I'm sorry
But I'm scared to be alone (Oh)
[Chorus: The Kid LAROI with Miley Cyrus]
You cut out a piece of me, and now I bleed internally
Left here without you (No, no, no), without you (Ooh-ooh, ooh)
And it hurts for me to think about what life could possibly be like
Without you (No, no, no), without you (No, no)
[Outro: The Kid LAROI & Miley Cyrus]
Oh-oh, woah, oh-oh, woah-oh
Oh, woah, oh-oh, woah
Without you, without you