URtainment
Daftar Lengkap Pemenang CMA Awards 2022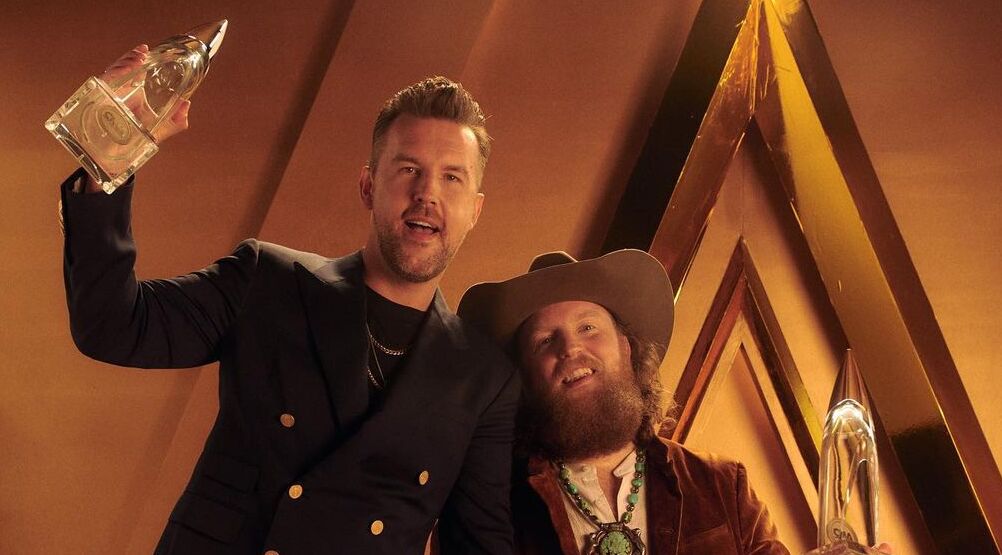 Image: Brothers Osborne Menangkan Piala CMA Awards 2022 (Instagram @cma)
Jakarta - Country Music Association (CMA) Awards ke-56 baru saja mengumumkan para pemenang nominasi saat malam puncak yang digelar di Bridgestone Arena pada Rabu (9/11/2022) malam waktu setempat.
Melansir PEOPLE, Kamis (10/11/2022), CMA Awards kali ini dibawakan oleh dua orang host, Luke Bryan dan Peyton Manning.
Rutin digelar setiap tahun, CMA Awards merupakan ajang penghargaan yang telah ada sejak 1967, untuk mengakui pencapaian para artis dan musisi yang berkiprah dalam dunia industri musik country.
Beberapa nama artis, musisi, hingga produser tampak memborong nominasi yang masuk ke dalam kategori ajang penghargaan musik itu. Lainey Wilson menjadi salah satu di antaranya.
Nama pelantun 'Saying' What I'm Thinkin' itu bahkan tercatat dalam enam nominasi termasuk album of the year, female vocalist of the year, new artist of the year, music video of the year, musical event of the year, dan song of the year.
Terlepas dari itu, malam puncak acara yang digelar ini tampak meriah dengan penampilan para bintang musik country termasuk Luke Combs, Cody Johnson, Reba McEntire, Cole Swindell, Luke Bryan, Carly Pearce, Miranda Lambert, Carrie Underwood, dan Morgan Wallen.
Ada juga serangkaian kolaborasi di antaranya Thomas Rhett dan Katy Perry yang membawakan lagu hit mereka 'Where We Started'. Sementara Elle King dan The Black Keys melantunkan lagu 'Great Balls of Fire' untuk menghormati mendiang Jerry Lee Lewis.
Penasaran dengan siapa saja daftar musisi yang membawa pulang piala CMA Awards? Langsung saja simak di bawah ini.
Entertainer of the year
Luke Combs – PEMENANG
Miranda Lambert
Chris Stapleton
Carrie Underwood
Morgan Wallen
Single of the year
"Buy Dirt" – Jordan Davis featuring Luke Bryan; producer: Paul DiGiovanni; mix engineer: Jim Cooley
"half of my hometown" – Kelsea Ballerini (feat. Kenny Chesney); producers: Kelsea Ballerini, Ross Copperman, Jimmy Robbins; mix engineer: Dan Grech-Marguerat
"Never Wanted to Be That Girl" – Carly Pearce and Ashley McBryde; producers: Shane McAnally, Josh Osborne; mix engineer: Ryan Gore
"'Til You Can't" – Cody Johnson; producer: Trent Willmon; mix engineer: Jack Clarke – PEMENANG
"You Should Probably Leave" – Chris Stapleton; producers: Dave Cobb, Chris Stapleton; mix engineer: Vance Powell
Album of the year
Growin' Up – Luke Combs; producers: Luke Combs, Chip Matthews, Jonathan Singleton; mix engineers: Jim Cooley, Chip Matthews – PEMENANG
Humble Quest – Maren Morris; producer: Greg Kurstin; mix engineer: Serban Ghenea
Palomino – Miranda Lambert; producers: Luke Dick, Miranda Lambert, Jon Randall, Mikey Reaves; mix engineer: Jason Lehning
Sayin' What I'm Thinkin' – Lainey Wilson; producer: Jay Joyce; mix engineer: F. Reid Shippen
Time, Tequila & Therapy – Old Dominion; producers: Shane McAnally, Old Dominion; mix engineer: Justin Niebank
Song of the year
"Buy Dirt" — songwriters: Jacob Davis, Jordan Davis, Josh Jenkins, Matt Jenkins – PEMENANG
"Never Wanted to Be That Girl" –songwriters: Shane McAnally, Ashley McBryde, Carly Pearce
"Sand in My Boots" — songwriters: Ashley Gorley, Michael Hardy, Josh Osborne
"Things a Man Oughta Know" — songwriters: Jason Nix, Jonathan Singleton, Lainey Wilson
"You Should Probably Leave" — songwriters: Chris DuBois, Ashley Gorley, Chris Stapleton
Female vocalist of the year
Miranda Lambert
Ashley McBryde
Carly Pearce
Carrie Underwood
Lainey Wilson – PEMENANG
Male vocalist of the year
Eric Church
Luke Combs
Cody Johnson
Chris Stapleton – PEMENANG
Morgan Wallen
Vocal group of the year
Lady A
Little Big Town
Midland
Old Dominion – PEMENANG
Zac Brown Band
Vocal duo of the year
Brooks & Dunn
Brothers Osborne – PEMENANG
Dan + Shay
LOCASH
Maddie & Tae
New artist of the year
HARDY
Walker Hayes
Cody Johnson
Parker McCollum
Lainey Wilson – PEMENANG
Musical event of the year
"Beers on Me" – Dierks Bentley with BRELAND & HARDY; producers: Dierks Bentley, Ross Copperman
"If I Didn't Love You" – Jason Aldean & Carrie Underwood; producer: Michael Knox
"Longneck Way to Go" – Midland (featuring Jon Pardi); producers: Dann Huff, Shane McAnally, Josh Osborne
"Never Say Never" – Cole Swindell (with Lainey Wilson); producer: Zach Crowell
"Never Wanted to Be That Girl" – Carly Pearce and Ashley McBryde; producers: Shane McAnally, Josh Osborne – PEMENANG
Music video of the year
"I Bet You Think About Me" (Taylor's Version) (From the Vault) – Taylor Swift (featuring Chris Stapleton); director: Blake Lively
"Longneck Way to Go" – Midland (featuring Jon Pardi); director: Harper Smith
"Never Say Never" – Cole Swindell (with Lainey Wilson); director: Michael Monaco
"Never Wanted to Be That Girl" – Carly Pearce and Ashley McBryde; director: Alexa Campbell
"'Til You Can't" – Cody Johnson; director: Dustin Haney – PEMENANG
Musician of the year
Jenee Fleenor, fiddle – PEMENANG
Paul Franklin, steel guitar
Brent Mason, guitar
Ilya Toshinskiy, banjo
Derek Wells, guitar