URtainment
Sabet 2 Piala Grammy Awards, Ini Lirik 'Get Lucky' Daft Punk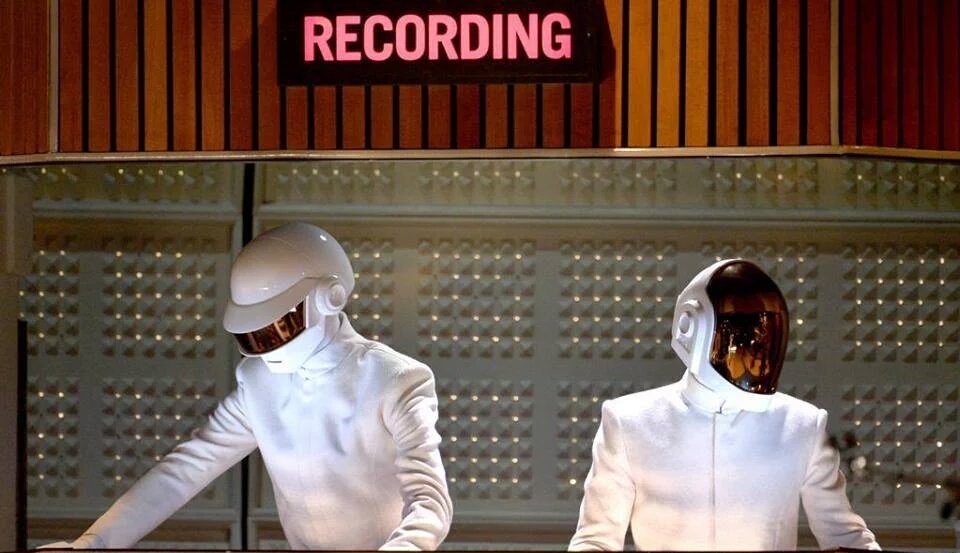 Image: Daft Punk Umumkan Bubar usai 28 Tahun Berkarya. (Twitter @DaftPunkUnchd)
Jakarta - 'Get Lucky' merupakan karya Daft Punk paling populer. Lagu ini dirilis pada 2013 dari album 'Random Acces Memories'.
Menggandeng Pharell Williams dan gitaris Nile Rodgers, duo musisi elektronik asal Prancis ini berhasil menarik perhatian pecinta musik lewat lagu yang asyik dan danceable.
Duet maut antara vokal Pharell Williams yang soulful dan petikan gitar Nile Rodgers yang funky memancing siapapun untuk terus mendengarkan lagunya sampai habis.
'Get Lucky' sekaligus menjadi titik penting dalam perjalanan karier Daft Punk. Berkat lagu tersebut, mereka berhasil menyabet sejumlah penghargaan bergengsi di antaranya, 'Record of the Year' dan 'Best Pop Duo/Group Performance' di Grammy Awards 2014.
Berikut lirik 'Get Lucky' yang dipopulerkan Daft Punk.
[Verse1: Pharell Williams]
Like the legend of the phoenix (Ha)
All ends with beginnings
What keeps the planet spinning (U-huh)
The force from the beginning (Ha)
Look
[Pre-Chorus: Pharrell Williams]
We've come too far
To give up who we are
So let's raise the bar
And our cups to the stars
[Chorus: Pharrell Williams]
She's up all night to the sun
I'm up all night to get some
She's up all night for good fun
I'm up all night to get lucky
We're up all night to the sun
We're up all night to get some
We're up all night for good fun
We're up all night to get lucky (5x)
[Verse 2: Pharrell Williams]
The present has no ribbon
Your gift keeps on giving
What is this I'm feeling?
If you wanna leave, I'm with it (Aha)
[Pre-Chorus: Pharrell Williams]
We've come too far
To give up who we are
So let's raise the bar
And our cups to the stars
[Chorus: Pharrell Williams]
She's up all night to the sun
I'm up all night to get some
She's up all night for good fun
I'm up all night to get lucky
We're up all night to the sun
We're up all night to get some
We're up all night for good fun
We're up all night to get lucky (5x)
[Chorus: Pharrell Williams]
She's up all night to the sun
I'm up all night to get some
She's up all night for good fun
I'm up all night to get lucky
We're up all night to the sun
We're up all night to get some
We're up all night for good fun
We're up all night to get lucky (5x)
[Chorus: Pharrell Williams]
She's up all night to the sun
I'm up all night to get some
She's up all night for good fun
I'm up all night to get lucky
We're up all night to the sun
We're up all night to get some
We're up all night for good fun
We're up all night to get lucky (5x)

[Bridge: Daft Punk]
We're up all night to get (8x)
We're up all night to get back together
We're up all night to get (Let's get funked again)
We're up all night to get (Funky)
We're up all night to get lu–
We're up all night to get lucky (8x)

[Pre-Chorus: Pharrell Williams]
We've come too far
To give up who we are
So let's raise the bar
And our cups to the stars
[Chorus: Pharrell Williams]
She's up all night to the sun
I'm up all night to get some
She's up all night for good fun
I'm up all night to get lucky
We're up all night to the sun
We're up all night to get some
We're up all night for good fun
We're up all night to get lucky (5x)

[Outro: Pharrell Williams]
We're up all night to get lucky (12x)