URtainment
Kai EXO Comeback dengan Rilis Album 'Peaches'
Indi Lusiani,
Selasa, 30 November 2021 18.20 | Waktu baca 2 menit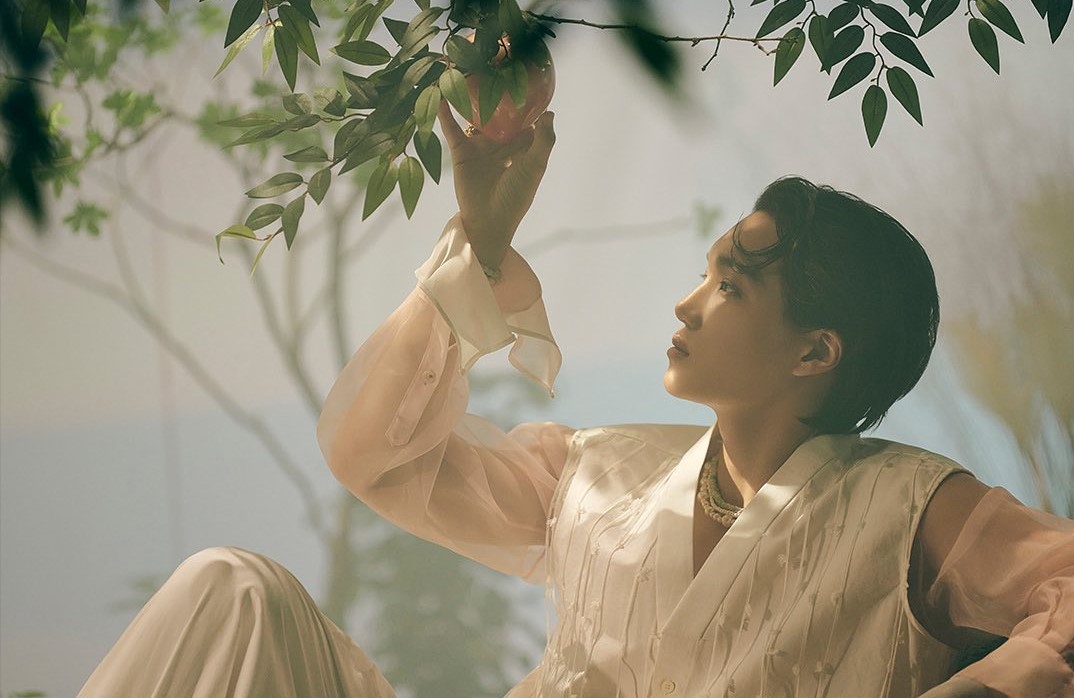 Image: Kai EXO dalam album terbarunya 'Peaches' (Instagram @smtown)
Jakarta – Penantian panjang penggemar terkait comeback solo Kai EXO segera berakhir, Urbanreaders!
Kali ini, Kai EXO kembali menyapa para EXO-L (sebutan fandom EXO) dengan merilis album baru bertajuk 'Peaches' pada hari ini, Selasa (30/11/2021).
Di dalam album 'Peaches' ini terdapat enam lagu dengan warna berbeda, salah satunya 'Peaches' yang menjadi judul lagu utama.
Lagu ini dideskripsikan sebagai lagu bergenre R&B bertempo sedang dengan iringan musik yang lembut. 'Peaches' berisi tentang keinginan seseorang untuk bersama sang kekasih. Liriknya pun menggambarkan momen romantis seorang kekasih yang diibaratkan dengan manisnya buah persik.
Selain 'Peaches', Kai EXO juga akan merilis lagu Vanilla, Domino, Come In, To Be Honest, dan Blue. Masing-masing memiliki daya tarik sendiri yang membuat album solo Kai kali ini sangat berwarna.
Berikut lirik lagu 'Peaches' dari Kai EXO!
Pretty girl you're like peaches
Soft hage gamssa
Iban gadeuk beonjin Sweetness
Feels good to be the bad guy
Imi samkyeobeorin Juice
Geu sungan kkaejyeobeorin Rule
Joyonghi jugobanneun bimil
Amudo mitji mothal kkum
Nan neoui nappeun Hobby
Deouk gappajineun hoheubi
Nal miso jitge mandeureo
Neol deo kkeureoange hae
Pretty girl you're like peaches
Soft hage gamssa
Iban gadeuk beonjin Sweetness
Feels good to be the bad guy
Duri hemaeneun millim
Neomu dalkomhan gibun
Baby close your eyes
Geujeo neukkyeobwa
Seororeul nanwo masin challaui sungan
Durui hwansangeun deo muhanhaejyeo ga
Gwitgae soksangnyeojwo kkumboda deo dalge
Imi jungdokdwae beorin na
Nae wiro mikkeureojin
Neoui budeureoun songil
Nal jipjunghage mandeureo
Ojik neoman boige
Pretty girl you're like peaches
Soft hage gamssa
Iban gadeuk beonjin Sweetness
Feels good to be the bad guy
Duri hemaeneun millim
Neomu dalkomhan gibun
Baby close your eyes
Geujeo neukkyeobwa
Dorikil su eopsi seumyeodeulji gipi
Gammiroun Kisses geu ane yeongwonhi
Neomchyeo beoril mankeum nareul chaewojwo
Neoreul wihan mami gyesok doedorok
Padochideut neon hwipsseureoga nal
Naeireul tteoolligien aswiunikka
Jipjunghae jwo All day neo hanamyeon Okay
Beoseonal su eopseo neol
Pretty girl you're like peaches
Soft hage gamssa
Iban gadeuk beonjin Sweetness
Feels good to be the bad guy
Duri hemaeneun millim
Neomu dalkomhan gibun
Baby close your eyes
Geujeo neukkyeobwa